The Clubhouse offers five unique guest rooms to members, sponsored guests and members of reciprocal clubs. Rooms are generously proportioned and newly decorated. Located on the third floor of the house accessible by elevator, each room is unique and historical while offering modern amenities, cable television and Wi-Fi. A bed-and-breakfast atmosphere welcomes guests to a common sitting room with complimentary coffee, refrigerator and work desk.
Please contact our General Manager, George Arnold at
garnold@towncounty.com
for additional information and availability.
The Barbara Bush Bedroom
The Barbara Bush Bedroom is a spacious room with a king-size bed, decorative fireplace, and en suite bathroom with claw foot tub. A continental breakfast is included. $205 per night plus tax
The Hunt Room
The Hunt Room offers a queen-size bed featuring a painted leather headboard, en suite bathroom and lovely hunt themed décor. $195 per night plus tax
The 1925 Room
The 1925 Room is spacious, offers an elaborate queen size bed, decorative fireplace, and bathroom with claw-foot tub. Continental breakfast is included. $195 per night plus tax
The Trumbull Room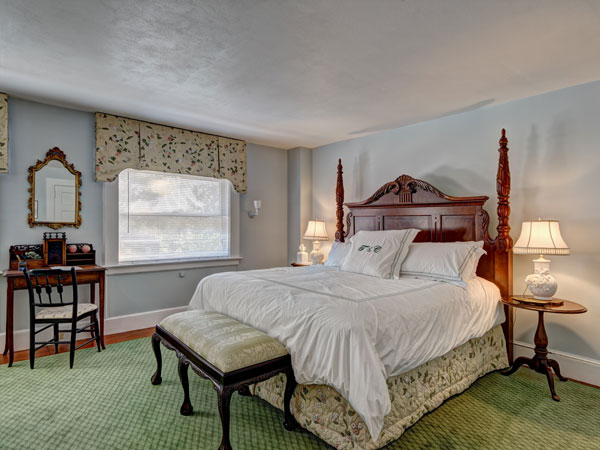 The Trumbull Room is a spacious room with king-size bed, decorative fireplace and en suite bathroom. Continental breakfast is included. $205 per night plus tax
The Nutmeg Room
The Nutmeg Room has twin beds, a decorative fireplace with a separately located bathroom. A continental breakfast is included. $145 per night plus tax (only available when renting in conjunction with another room)